In dreams, the snake is, as Freud teaches us, commonly associated with a phallic symbol but absolutely ambivalent, it can in fact be interpreted with references to both sexuality and fertility, it can represent fears, temptations and intimate interests; in man, especially if he is an adolescent, he can indicate a need to affirm his virility; in women, on the other hand, it can reflect fear and attraction for intimacy together.
To confirm this we find that even according to Jung the reptiles represent both that part of our psyche most obscure and uncontrolled intimate energy.
But we ask ourselves, what does it mean to dream of a snake? Let us not forget how the adjectives like hypocritical, treacherous, malicious are practically synonymous with "being a snake"; hence the common ways of saying that we all know.
If reflecting on ourselves, on people close to you or anyway on your current situation you don't seem to be able to do any kind of association without feeling any distrust towards friends, relatives or acquaintances, most likely the dream will only concern yourself .
Snakes Symbolism in the Bible
Snakes have a wide spectrum of meaning in the Ancient Near East and in Egypt. On the one hand, they can represent enemies and, on the other, protectives, they can be used as symbolic animals for goddesses and gods. At the same time, they stand for wisdom and life, fertility and regeneration, or for death and dying.
Their toxicity makes the snake a symbol of power and thus a creature believed to be apotropaic. This is particularly evident in the variety of snake images on crowns, door handles, vessels and kudurrus (Mesopotamian landmarks).
The snake depicted on Kudurrus is sometimes horned. Whether the unheard serpent is always the symbol of the god Nirach, the horned hand, on the other hand, represents exclusively the symbol of the god Ningishzida, goddess of protection of the ruler Gudea and the border with Elam, is uncertain.
As a symbolic animal of the destructive and protective power of the Pharaoh is also the (two- or four-winged) Uraeus, which is often found on Palestinian stamp seals. Because of their near-Earth, chthonic way of life, the serpent is credited with negative numinous powers. The serpent can represent death and evil. Even the iconographic and literary topos of the hero who kills the snake belongs in this motif circle.
The theme of the hero fight combines Canaanite, Egyptian and Mesopotamian ideas. In Egypt, the snake is considered a symbol of nothingness and the nocturnal danger of death, which threatens the course of the sun, and must be fought. The Apophis Serpent represents the opponent of the Sun God, who is destroyed by him every day, but never finally killed.
Both in Ugarit and in Egypt are representations of the god Baal-Seth, who overcomes the (horned) Chaos Serpent. In the Middle East, too, the snake represents the chaos water and the endangerment of vegetation and fertility. Old Syrian cylinder seals show the weather god fighting the serpent. Even in the Neo-Assyrian period, this motif is widespread in Mesopotamia.
A horned poisonous snake is also the symbolic animal of the Mesopotamian underworld god Ningishzida, the "Lord of Life", who guards the underworld gods or, in the Adapa myth, the heavenly gates. The Ugaritic incantation text KTU 1.100 tells of the search for the right incantation against snake bites. According to him, the goddess Shapshu has to travel as a messenger through almost the entire known world at that time, in order to carry on an incantation against snapshots to the great goddesses and gods.
The Lamaschtu, which is especially dangerous for infants and women in childbirth, combines elements of scorpion, dog and snake with an upright lion shape in their mixed form: a amulet fragment found in the southern part of Sheffela, probably a Mesopotamian import piece, is a good example a pig and a dog lactating llamasu, standing as a "Lady of the Snakes" on a lying animal.
However, in spite of their negative connotations, one should not speak of an anthropoid natural dislike of humans for creeping animals (Hedinger, 354, cf Riede, 2000, 234f.). It also has many positive aspects in the ancient Near East.
Dreams about Snakes – Meaning
In dreams, the snake represents the evil that in different aspects and gradations subtly insinuates itself into the folds of the life of each of us to strike him in the most vital affections and interests.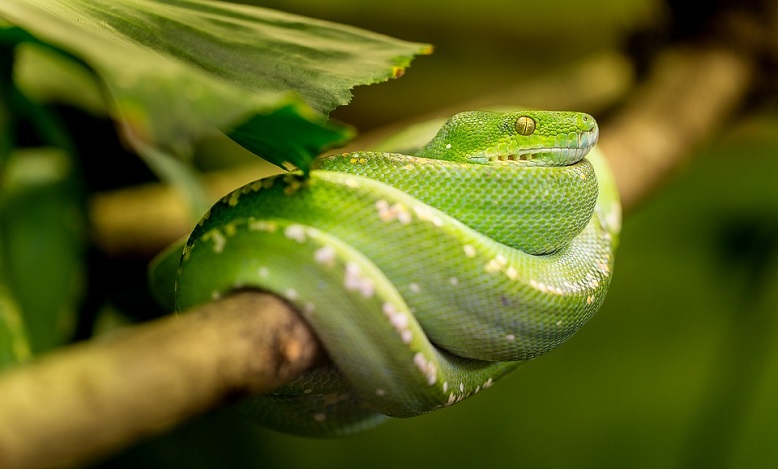 With its poisonous bite represented by the fearsome weapon of defamation. In the language of dreams, no less dream of snakes symbolizes evil, seduction, temptation.
From the serpent of Gilgamesh to that of Adam and Eve, the snake has always been a symbol of man's destiny. Related to the broader sphere of life, from its essence derives an idea of ​​creation, regeneration and adaptation, but at the same time of destruction or self-destruction.
The fact that his motor ability can be traced back to a creeping body, makes the snake an animal difficult to associate with something positive.
On the contrary, his gait evokes something subtle and threatening, which seeks to creep into a person's life from the most hidden and least accessible corners.
From these characteristics a descriptive dreamlike image of events that are neither serene nor totally reassuring can only descend.
Dreaming of a snake that attacks or bites the genital organs has both a negative connotation that can be derived from the repression of the creative faculties or from an excessive importance given to the conscious system and therefore to the ego causing in some cases impotence and sterility in the psychic environment , physical or spiritual; is a positive meaning, in which the serpent that represents the unconscious and therefore the id invites us not to let ourselves be dominated by the uncontrolled instinctive impulses. It is clear that we must balance in both cases.
Dreaming of seeing a dead snake or killing a snake can express victory against fear and anguish, thus freeing itself from maternal influence, reaching maturity, individuality and self-confidence. However, not always repressing instincts, represented by this reptile, is a good thing.
Dreaming of snakes and seeing so many of them together can mean nothing more than living in a particular moment of life; a moment of great psychological and emotional confusion, characterized by profound fear, indecision, fear and repression of impulses.
Another recurring possibility that can help us understand what our unconscious wants to tell us is that the snakes that appear to us in dreams can often be characterized by a colored skin that particularly attracts our attention, each color can show us a different explanation of the dream that accompanies our hours of sleep.
To dream of a black snake is to express your hidden sides in the unconscious that press to be brought to the surface; Dreaming of a red snake means being afraid of uncontrolled passions in reality; Dreaming of a green snake proves to live life in a reflexive, sentimental and moralistic way and therefore to be threatened by one's instincts; Dreaming of a yellow snake certainly shows a stretch of jealousy to approach someone or something, depending on the other elements of the dream, as clearly as every single sign to be interpreted in every part of the story we put together.
Dreams about Snakes – Symbolism
Dreaming of a big snake –  it can have both a negative and a positive meaning, as far as the negative meaning is concerned, it could indicate our tendency to let the problems oppress us; as far as the positive meaning is concerned, it concerns the variant of dreaming of a great snake without being afraid that it indicates our inner strength, the courage we have in front of a threat
Dreaming of a haunted snake house –  beware! Because in this case we could be dealing with the repressed impulses that if undervalued can worsen our balance with the partner or family.
Dreaming of snakes in the bed –  signals a doubt of ours, which has the answer "betrayal", in this case there could be problems with the partner.
Dreaming of snakes infesting a room –  here the situation becomes complicated, it could indicate our unease towards the people who remind you of this room.
Dreaming of chasing snakes –  it may mean that you have some unresolved issues that don't leave us in peace.
Dreaming of an aggressive, threatening snake –  it could indicate an imminent threat.
Dreaming snake crawling, chasing you, chasing after you, attacking you –  it is very likely that this attitude suggests something evil that is reaching us, a threat, a problem, fears or anxiety
Dreaming about snakes –  it's about intimate instincts, maybe we need to live them a little more without repressing them.
Dreaming snake that strangles, crushes, tightens- similar to the snake on but with a higher value since the snake holds us in a vice, it may want to symbolize a difficult relationship with our sexual instincts
Dreaming of a snake cut into pieces, with its head cut off, or dreaming of killing a snake- we are finally free, symbolizing the end of the evil that was suffocating us.
Dreaming of a snake that is still, calm and twisted- it is a very positive sign, where there is no trace of threats, it represents calm or a peaceful moment, enjoy it!
Dreaming of sea snake – it represents a moment of awareness in which we are realizing a possible change in the air or there is the desire to travel new roads.
Dreaming of a snake that speaks-  it is unusual but it happens and could represent a direct line with our unconscious, better to listen to what it has to say to us
Dreaming of a two-headed snake- be careful, we are in a confused moment where two situations require two different treatments and this sends us into confusion, acting with caution.
Dreaming about flying snakes – anything that leaves a person or an animal floating around has something on his mind unless it's Peter Pan! So a few ideas flash through our minds, thoughtful period.
Dreaming snake with legs – this figure certainly represents a transgression, something unusual.
Dreaming of a hairy snake – this is a sign of virility and a will to live, it symbolizes the desire to take life in front of you.
Conclusion
Dreaming of snakes, or dreaming of reptiles in general, takes on different meanings according to the context of the dream. In popular belief the snake has always been associated with gossips.
Dreaming of snakes therefore means that someone is talking about it behind us. But as we have said the meaning of the dream can take on other nuances, depending on the details that fill our dream.
The sense of the dream in fact changes also according to whether the snake is seen as hostile, aggressive, and here we return to the popular meaning of the gossips, or as enveloping or even completely harmless, without the ability to poison the subject who is dreaming, indicating in this case the harmlessness of the chatter and of the people who make it or in any case our ability to dominate them.